MEDIUM
Medium is the American online Article publishing Platform developed by Evan William (co-founder of Twitter). Medium is now 8 yrs. old and has grown from a 60 million reader base to 170 million till today.
A medium is a place on the internet where people share ideas and stories that are longer than 140 characters. It also helps to find the right audience for whatever we want to say and designing little stories.
Medium has raised about 132 million dollars in venture funding and it's still not profitable. It doesn't even use banner Ads as it's revenue model.
GOAL
The main goal of the medium is to reduce the time spent on reading articles.
How to use Medium:
The medium can be used as a free platform that allows everyone to sign up and publish their stories and blogs. It also allows saving the stories for the future or offline reading.
Creating a Medium Account:
Visit Medium Website
Click on the "GET STARTED" button on the top right side.
It shows a pop up with the signup options to join Medium.
Use any of the options to sign up.
It will create your account and redirects you to the homepage of Medium.
See the below screenshots for your reference.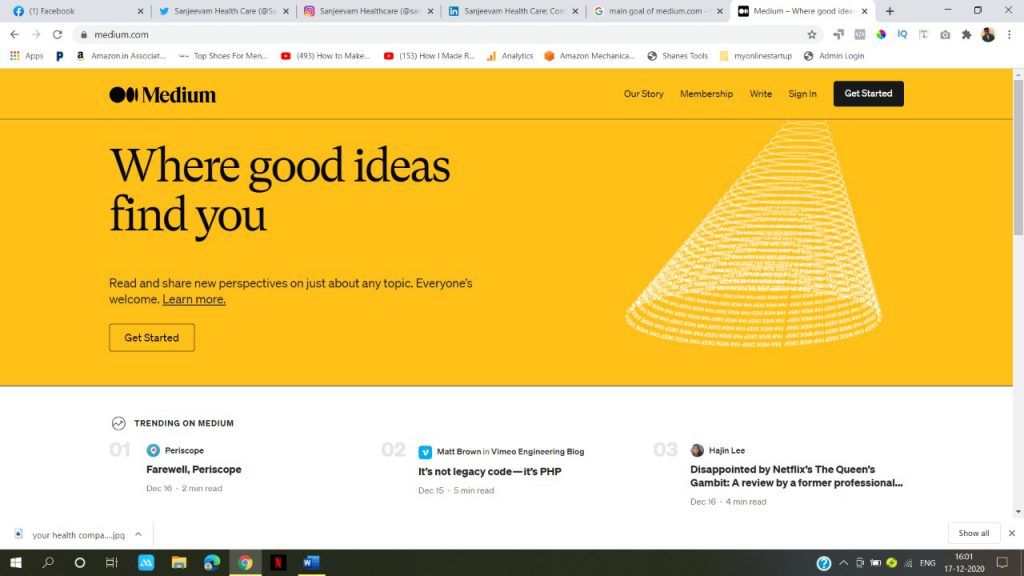 10 Reasons to use Medium:
We can import our whole blog directly into Medium by just giving the link from anywhere on the internet.
The audience already exists here. (There is no need of sending friend requests, building connections we can directly reach them)
Gives you real Engagement (people who are really excited about your content).
Medium offers new reach and a fresh audience daily.
The Publishers who are already available can "Hire" and publish our articles.
There is no option of scheduling a post to avoid spamming
You can redirect your audience wherever you want.
Requires Minimum effort.
You get paid for your articles.
Medium supports all content types of articles for publishing.